Transformative Benefits of Stretch Mark Removal
Bid farewell to stretch marks and reclaim your beautiful, smooth skin with our state-of-the-art Stretch Mark Removal at Dr. Rubinstein's clinic in Newburgh, NY. This non-invasive procedure offers transformative benefits that will boost your confidence and enhance your appearance in a matter of sessions.
Long-lasting Results
Our treatment penetrates deep, eradicating the root cause of stretch marks for lasting smoothness you can flaunt.
Quick and Painless
Say goodbye to lengthy and painful procedures. Our treatment is fast and virtually pain-free, letting you resume normal activities immediately.
Suitable for All Skin Types
Worried about sensitive skin? Our Stretch Mark Removal is designed to be effective on all skin types, offering universal appeal and efficacy.
Laser stretch mark treatment is a safe, convenient way of rejuvenating the skin from within. At Laser & Cosmetic Surgery Specialists of Newburgh, NY, Dr. Rubinstein uses the Palomar Lux 1540 fractional laser, a sophisticated technology recently approved by the FDA for use in erasing scars and discoloration associated with stretch marks.
The Lux 1540 blends the power of ablative (or resurfacing) lasers with gentle, noninvasive, nonablative treatments. It is the perfect healing process for the unsightly stretch marks that plague millions of women—and men—of all ethnicities and skin types.
What Causes Stretch Marks?
Stretch marks, also known as striae, occur when the skin is stretched too far and too quickly. This rapid stretching of the skin usually occurs during pregnancy or rapid weight gain due to muscle building. They are common in both men and women and can be seen on the stomach, thighs, upper arms, breasts, hips, and buttocks.
Stretch marks appear as reddish or purplish lines on the skin that may feel slightly raised or itchy. Over time, they fade to a silvery-white color. Stretch marks are mostly caused by an increase in cortisone levels in the body. The higher cortisone causes collagen fibers below the surface of the skin to break down more easily.
Other possible causes include genetics, hormones (such as pregnancy), rapid changes in weight (up or down), certain medications (such as those for asthma and arthritis), stress, excessive tanning or sunlight exposure, and intense physical activity.
Basically, they are microscopic tears that, when healed, lack collagen and elastin; hence, the red color that fades to a dull, ridged shine. With this fractional laser treatment, scarred cells melt away while the surrounding tissue rebuilds the missing elastin vital to plump, smooth, firm skin and restores collagen production.
Why Have a Laser Stretch Mark Treatment?
Cosmetic surgeons and skin specialists are excited by the Lux 1540's results. Many cite it as the only effective treatment "to minimize visible stretch marks to patients' satisfaction." Studies have shown an average improvement in skin appearance of 51–75%. Most patients recognize significant, easily visible improvement in three to five months. Even old stretch marks—notoriously difficult to treat—respond to fractional laser beams and improve significantly after only a few treatments.
In the past, options were expensive, limited, and often ineffective because they focused on the top layer of the skin. None targeted the dermis, or middle layer, where stretch marks originate.
The Lux 1540 is the only effective means of reaching underlying skin cells while maintaining the integrity of the skin's surface. Because the skin's surface remains intact, the risk of infection is extremely low. Patients do not have to worry about crusting, unattractive scabbing, or scarring. It costs less than other methods and causes only mild discomfort. Downtime is negligible.
Embark on Your Journey to Success, Don't Wait More!
Schedule a consultation with Dr. Rubinstein
Laser Treatment for Stretch Marks
The procedure is amazingly simple and comprises a series of treatments performed on an outpatient basis. The laser is a handheld device about the size of a microphone, with round treatment areas of 10, 12, and 15 millimeters. Laser strengths can range from 3 to 70 millijoules, depending on the optimum settings and handpiece. The device has a rolling cooling feature that coincides with the pulses of light. Dr. Rubinstein, or one of his highly skilled laser staff will apply the laser tip to the site. You will hear a click and possibly feel a small pinch as the laser fires. Then, the process repeats until the area has been treated. Over the course of several treatments, the dermis consistently repairs itself with fresh, elastic, voluminous skin.
Patient Results
* All patients are unique and individual results may vary.
Are You an Ideal Candidate for Stretch Mark Treatment?
If you have visible stretch marks, new or old, you are a candidate for Dr. Rubinstein's laser stretch mark treatment at Laser & Cosmetic Surgery Specialists of Newburgh, NY. Stretch marks form on the inner arms and thighs, breasts, abdomens, backs, hips, and even necks—any place a body deposits fat.
Up to 90 percent of women acquire stretch marks during pregnancy. Even before that, up to 70 percent of young girls develop them through the rapid body changes of puberty. Men, too, suffer not only from weight gain, but also from rapid muscle building. Unfortunately, once stretch marks appear, they are permanent unless treated.
The beauty of the Lux 1540 is its effectiveness and suitability for all skin types. All ethnicities, even those with darker skin tones, can enjoy significant stretch mark improvement simply due to the wavelength spectrum used. It is especially beneficial to patients who have tried other methods but are unhappy with the lack of desired results.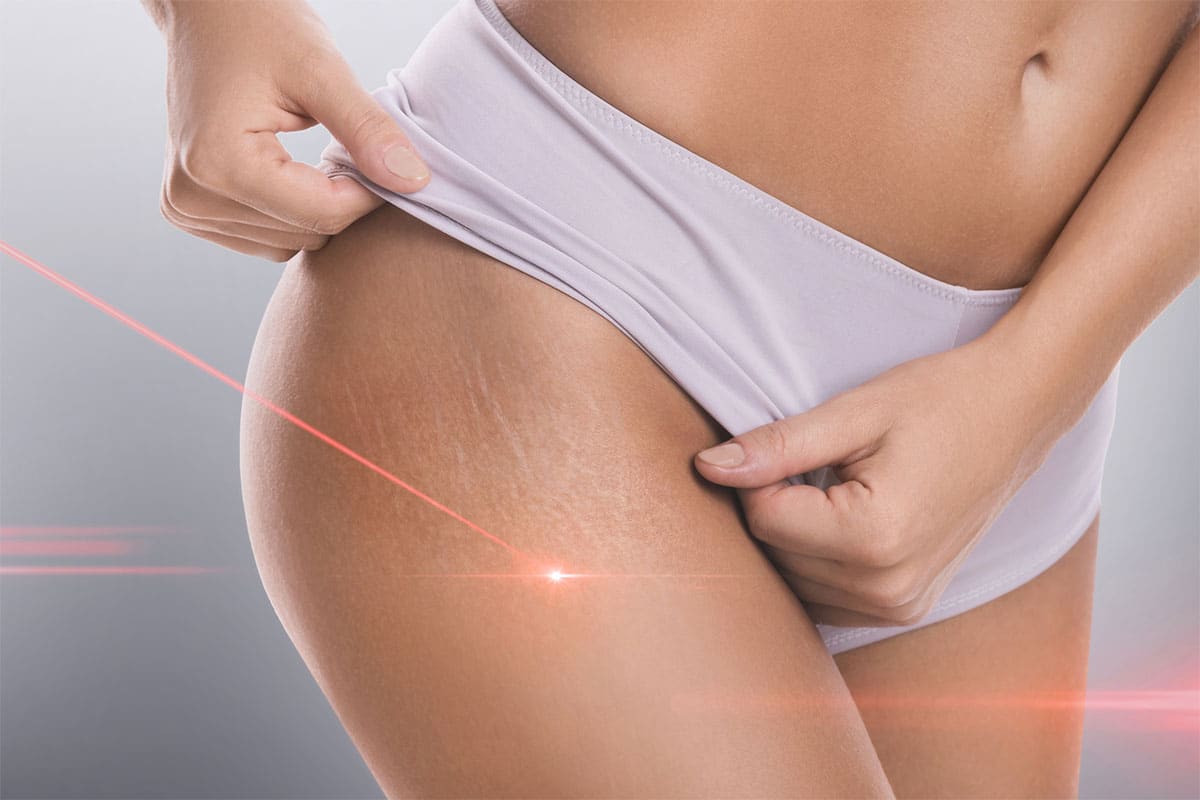 Patient Results
* All patients are unique and individual results may vary.
Treatment Combined with Microneedling
Dr. Rubinstein may suggest microneedling if there's too much skin laxity. The procedure uses a handheld device with a small number of needles to create tiny punctures in the skin, which subsequently stimulates collagen production. Additionally, these tiny channels help in the absorption of vitamin-rich creams or serums for extra hydration, volume, and improved skin quality. Dr. Rubinstein will help you formulate a tailored treatment plan to improve skin quality and eliminate the appearance of stretch marks.
Are There Any Risks to Laser Stretch Mark Removal?
The risks are extremely low with the Palomar Lux 1540 treatment. This virtually painless procedure is noninvasive and gradual, avoiding the drawbacks common to ablative and nonfractional lasers. The key to an optimal experience, however, is avoiding sun exposure, tanning products, bleaching creams, or any other active-ingredient topicals at least two weeks prior to the cosmetic procedure. These include benzyl peroxide, retinol, and salicylic acid, so check labels carefully. Accutane use within the past 6 months is also an issue and may require a delay in laser treatment. As with any cosmetic surgical procedure, results depend on the plastic surgeon's expertise and the patient's dedication to following pre- and postprocedure instructions.
Frequently Asked Questions about Laser Stretch Mark Treatment
How long will the procedure last?
The actual cosmetic procedure is amazingly simple and convenient: about an hour to allow the topical numbing cream to act, plus 30–40 minutes for the actual laser energy application. You will need to commit to four to six treatment sessions, spaced two to four weeks apart, to allow interim healing and rejuvenation. In three to five months, you should be able to see obvious results. Because this is a gradual, gentle process, you will experience no downtime other than the actual office appointments and series of treatments.
What is the cost range for Stretch Mark Removal?
The cost of stretch mark removal depends on several factors including the type of treatment, the extent of the area treated, and the number of sessions needed. Our offices will give you an approximate fee when you contact us. An exact quote will be given once you have consulted with Dr. Rubinstein.
What can I expect after the procedure?
Your rejuvenating skin needs protection to heal optimally. The most important factor after the procedure is to use sunscreen at all times, daily. You can apply it almost immediately after treatment and should continue to use it until directed otherwise (usually three months). Initially, you may experience some mild swelling, itching (due to minor swelling), and redness for a day or two. Most patients liken it to mild sunburn. Often, ice applied to the skin is all that is needed. Some patients notice light bronzing or flaking. Quality moisturizers with SPF 15 sunscreen help considerably and protect the new skin from even inadvertent sun exposure.
How soon can I return to work after laser stretch mark removal?
You can return to work immediately following the procedure, as long as your skin is properly protected with sunscreen.
Which Laser Stretch Mark Removal office is near me?
If you live in New York, Laser & Cosmetic Surgery Specialists offer stretch mark removal among its services. For a full list of services, please visit our Locations page.