Uncover the Benefits of Laser Vein Therapy
Get ready to embrace a life without the hassle and appearance of unsightly spider veins. At Laser & Cosmetic Surgery Specialists, we offer cutting-edge Long Pulse YAG laser treatments that are proven to be both safe and effective for all skin types. Here's how you can benefit from this revolutionary approach.
Quick and Painless
Say goodbye to painful surgical procedures. Our laser vein treatments are quick, virtually painless, and have minimal downtime.
Effective for All Skin Types
Whether you have fair or dark skin, the Long Pulse YAG laser safely targets spider veins, offering universally effective results.
Long-Lasting Outcomes
Our treatments not only make the veins disappear but also provide long-lasting results, freeing you from the inconvenience and embarrassment of recurring spider veins.
The Procedure
Laser Vein Treatment
Prior to your laser vein treatment, you will need to undergo a thorough examination to determine if there are any underlying venous conditions which may require surgery or other treatment. Once you are cleared to undergo laser treatment, this is performed in the relaxing spa environment at Laser & Cosmetic Surgery Specialists. Discomfort is generally minimal; most patients describe the sensation as similar to that of a warm rubber band being snapped against the skin. If necessary, a topical anesthetic cream can be used. During treatment the laser light is absorbed by the veins, sparing the surrounding healthy tissue. Treatment generally takes thirty to forty-five minutes for leg veins and fifteen to thirty minutes for facial veins. Spider veins on the legs may require two to three treatments spaced two months apart. Veins that are larger than 4mm in size may be better treated with sclerotherapy.
Embark on Your Journey to Success, Don't Wait More!
Schedule a consultation with Dr. Rubinstein
After Laser Vein Treatment: What to Expect
Patients may experience some minor tenderness, redness and swelling after treatment. These side effects typically clear up within a few hours. In most cases, normal activities can be resumed right away, though patients will need to avoid heat exposure and hot baths and strenuous activities for several days. For spider veins on the legs, support hose are generally worn for about one week.
Patients often see immediate improvement in spider veins of the face after treatment. For larger veins of the legs, the veins will gradually fade over a period of four to six weeks.
Patient Results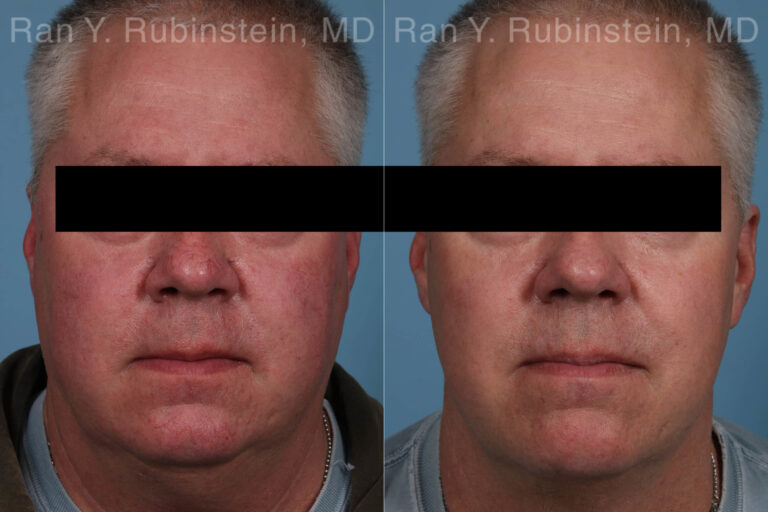 * All patients are unique and individual results may vary.
Possible Complications of Laser Vein
Laser spider vein therapy is very safe with few associated risks. Rarely, blistering may occur that lasts for one week.
While laser vein treatment is generally considered safe and effective, like any medical procedure, it carries some risks and possible complications. It's crucial to consult with a qualified healthcare provider, such as Dr. Rubinstein at Laser & Cosmetic Surgery Specialists in Newburgh, NY, for a comprehensive evaluation and personalized advice.
FAQs about Spider Vein Therapy
How long does Spider Veins Face treatment usually last?
The duration of results from Spider Veins Face treatment can vary from person to person. However, many people find that the effects last for several years. Maintenance treatments may be required to sustain long-term results.
What is the general cost range for Spider Veins Face treatment?
While it's challenging to provide a specific cost, the price can vary depending on the severity of the condition and the number of treatments needed. Our offices will give you an estimate of fees open scheduling a consultation. The exact fees will be given once you consult with Dr. Rubinstein.
What is the recovery time post-treatment?
Recovery time is usually minimal, with most people returning to normal activities within a day or two. Some redness and swelling may occur, but these symptoms are typically short-lived.
Are there any side effects associated with the treatment?
Common side effects may include temporary redness, bruising, or swelling in the treated area. These usually dissipate within a few days.
What Spider Vein Therapy office is near me?
If you live in the state of New York, Laser & Cosmetic Surgery Specialists offers spider vein therapy among its services. For a full list of services, please visit our Locations page.