Laser Vein Treatment – The Procedure
Prior to your laser vein treatment, you will need to undergo a thorough examination to determine if there are any underlying venous conditions which may require surgery or other treatment. Once you are cleared to undergo laser treatment, this is performed in the relaxing spa environment at Laser & Cosmetic Surgery Specialists. Discomfort is generally minimal; most patients describe the sensation as similar to that of a warm rubber band being snapped against the skin. If necessary, a topical anesthetic cream can be used. During treatment the laser light is absorbed by the veins, sparing the surrounding healthy tissue. Treatment generally takes thirty to forty-five minutes for leg veins and fifteen to thirty minutes for facial veins. Spider veins on the legs may require two to three treatments spaced two months apart. Veins that are larger than 4mm in size may be better treated with sclerotherapy.
Patient Results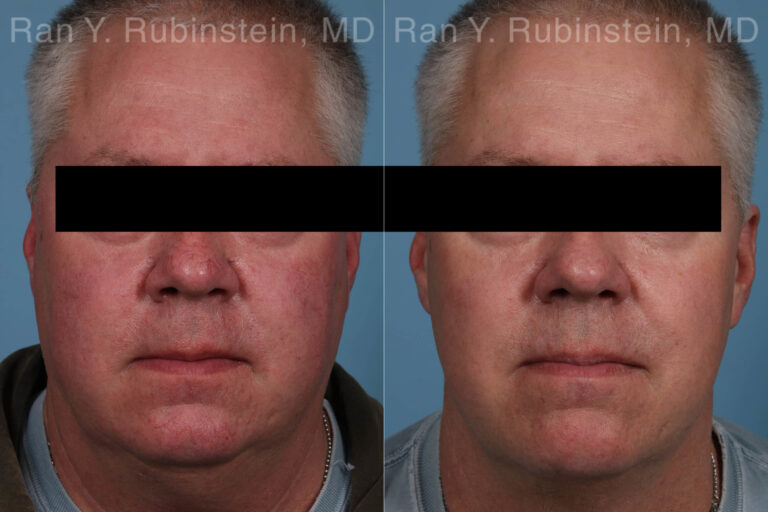 * All patients are unique and individual results may vary.
After Laser Vein Treatment: What to Expect
Patients may experience some minor tenderness, redness and swelling after treatment. These side effects typically clear up within a few hours. In most cases, normal activities can be resumed right away, though patients will need to avoid heat exposure and hot baths and strenuous activities for several days. For spider veins on the legs, support hose are generally worn for about one week.
Patients often see immediate improvement in spider veins of the face after treatment. For larger veins of the legs, the veins will gradually fade over a period of four to six weeks.
Possible Complications of Laser Vein
Laser spider vein therapy is very safe with few associated risks. Rarely, blistering may occur that lasts for one week.
FAQs about Spider Vein Therapy
What Spider Vein Therapy office is near me?
If you live in the state of New York, Laser & Cosmetic Surgery Specialists offers spider vein therapy among its services. For a full list of services, please visit our Locations page.