Experience the Benefits of Laser Facial
Say goodbye to dull, uneven skin and hello to a vibrant, youthful complexion with Laser Facial Treatment at Dr. Rubinstein's clinic in Newburgh, NY. This cutting-edge, non-invasive procedure targets various skin issues, offering you a rejuvenated face that turns heads and boosts confidence.
Skin Rejuvenation
Smooth out fine lines and improve skin texture. Experience a youthful, radiant glow that captivates everyone around you.
Quick and Painless
Forget lengthy procedures and recovery time. Enjoy a comfortable, efficient treatment that lets you get back to life immediately.
Targeted Results
Whether it's acne scars, sunspots, or uneven pigmentation, Laser Facial Treatment tackles your specific issues for a truly customized, flawless look.
Age Defense Laser Facial
The Age Defense Laser Facial is the ultimate in anti-aging treatments. At Laser & Cosmetic Surgery Specialists of Newburgh, New York, we use state-of-the-art non-ablative lasers to address aging concerns and restore a smoother, more youthful facial appearance. This is a safe, effective laser treatment which promotes new collagen growth, strengthens elastin fibers, improves skin elasticity and firms the skin.
The Age Defense laser facial takes just thirty minutes to an hour to complete. Anesthesia is not necessary because there is minimal discomfort involved. There is no downtime and patients can immediately return to their normal activities. Most patients benefit from a series of four to seven treatments which are performed on a monthly basis.
Patient Results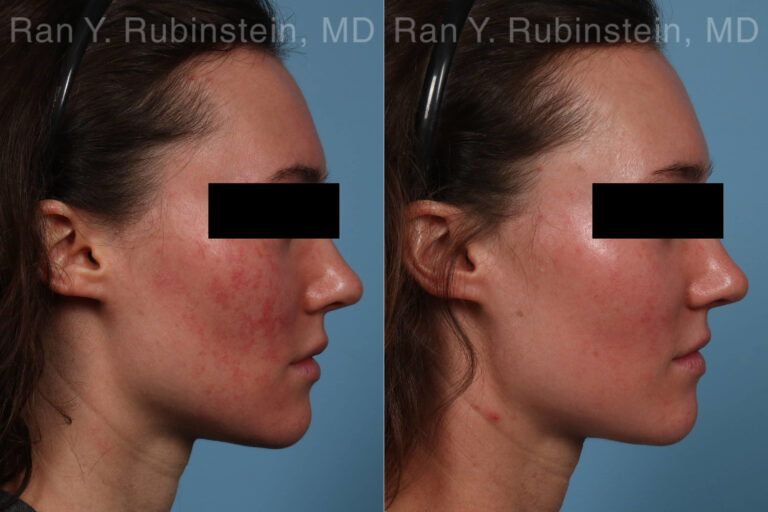 * All patients are unique and individual results may vary.
Laser Facial with Levulan
For Acne and Precancerous Lesions
For individuals with acne and darker, pre-cancerous lesions, Dr. Rubinstein often performs the laser facial with Levulan for dramatic results. Maximum results are typically achieved with two to three treatment sessions. This is a more aggressive treatment and patients will need to avoid sun exposure for forty-eight hours. We also recommend that patients use a medical-grade sunscreen after treatment.
FAQs about Laser Facial Treatment
How long does Laser Facial Treatment last?
The longevity of Laser Facial Treatment results can vary from person to person, depending on factors such as skin type and the specific issue being treated. However, the effects typically last for several months and can even extend up to a year or more with proper skincare.
How does Laser Facial Treatment work?
Laser Facial Treatment involves the use of focused light to target various skin concerns such as pigmentation, wrinkles, and acne scars. The laser energy penetrates the skin to stimulate collagen production, promoting natural healing and skin rejuvenation.
What is the cost range for a typical Laser Facial Treatment?
The cost of Laser Facial Treatment can vary based on multiple factors, including the area being treated and the number of sessions required. Generally, it is best to consult with a qualified specialist, such as Dr. Rubinstein at Laser & Cosmetic Surgery Specialists, for more information regarding the exact cost of your procedure.
Is it safe to exercise after Laser Facial Treatment?
It's generally advised to avoid strenuous exercise for about 24-48 hours after undergoing Laser Facial Treatment. Physical activity can increase blood flow, potentially exacerbating swelling or redness.
What Laser Facial Treatment
office is near me?
If you live in the state of New York, Laser & Cosmetic Surgery Specialists offers laser facial treatment among its services. For a full list of services, please visit our Locations page.