Benefits of a Natural-Looking Facelift Await
Facelifts have transcended mere cosmetic adjustments to become synonymous with comprehensive rejuvenation. Embracing this transformative procedure offers individuals not just a revival of their facial aesthetics but also an upliftment of their confidence and spirit. Let's delve into the pivotal benefits of this remarkable transformation.
Natural Harmony
By targeting muscles and fat, achieve results that are genuinely natural-looking, avoiding the overly tightened look.
Decade-Long Beauty
Elevate your appearance with results that last over 10 years, a testament to enduring allure.
Invisible Artistry
Benefit from the meticulous craft of nearly invisible incisions, ensuring your transformation remains your delightful secret.
Surgical & Non-Surgical Procedures
What is a Deep Plane Facelift?
The deep plane facelift (rhytidectomy) provides a lifted, more youthful appearance by raising the underlying facial tissues without pulling on the muscles or skin. During a traditional facelift, excess skin is removed and the skin is lifted from the underlying muscles and pulled to reduce signs of aging. During the deep plane facelift, the skin remains attached to the muscle layer.
Extended Deep Plane Facelift
Dr. Rubinstein lifts the area beneath the skin and muscle by releasing four tethering points in the face and neck. The extended deep plane facelift raises and adds volume to the midface and cheeks without the use of added filler or fat, improves nasolabial folds, smooths the jawline, and removes jowls. However, Dr. Rubinstein may recommend a deep plane neck lift along with the extended deep plane facelift for patients with advanced neck aging, sagging, or neck bands.
the procedure
Extended Deep Plane Facelift in Newburgh, NY
Dr. Rubinstein offers extended deep plane facelift consultations in Newburgh, NY, for men and women who are unsatisfied with their appearance due to facial aging. Ideal deep plane facelift candidates are men and women in good physical health who are non-smokers and have realistic expectations.
Our office does not require patients to be under a certain age, however, waiting too long could prevent patients from achieving optimal results. People between the ages of 40 and 50 typically experience outstanding facelift results, but patients in their 70s and older may also benefit from an extended deep plane facelift performed to lift and tighten their skin and jawline.
Embark on Your Journey to Success, Don't Wait More!
Schedule a consultation with Dr. Rubinstein
the consultation
the Deep Plane Facelift consultation
During the consultation, Dr. Rubinstein examines potential candidates and reviews their medical history before recommending an extended deep plane facelift or another procedure. Realistic expectations are essential, and Dr. Rubinstein uses 3D imaging technology with the Canfield Vectra system to demonstrate how the deep plane facelift could impact an individual's appearance.
Dr. Rubinstein customizes the deep plane facelift procedure to match the patient's needs. He explains the surgery, additional procedures, and anesthesia during the consultation.
Extended Deep Plane Facelift Procedure
After the anesthesia has been administered, Dr. Rubinstein places small incisions in well-hidden areas beneath the jaw and around the ears. He then vertically lifts the skin and muscles as one unit and repositions the facial fat and underlying tissue to provide smoother, firmer skin, a contoured jawline, and younger-looking features.
The facelift procedure involves accessing deep areas of the face, so the patient must keep their head elevated and bandaged after the surgery to ensure proper healing and reduced swelling. The blood supply to the face is maintained throughout the surgery to allow for more rapid recovery. The surgery typically takes about five hours but may take longer when additional procedures are performed.
Patient Results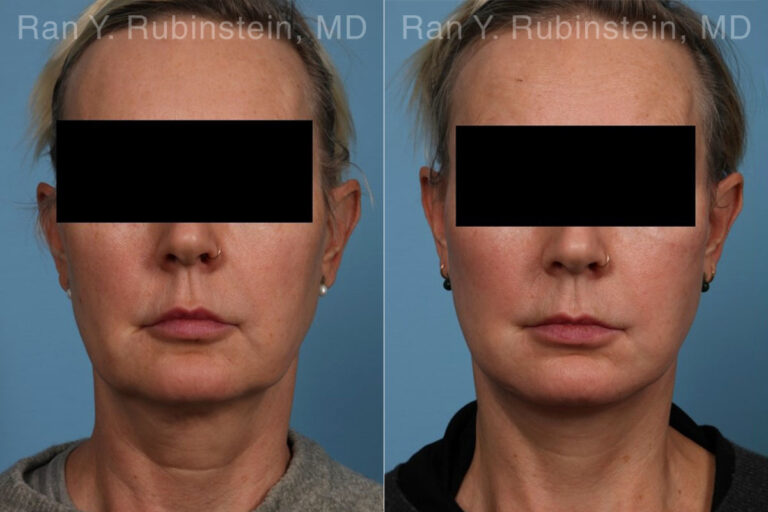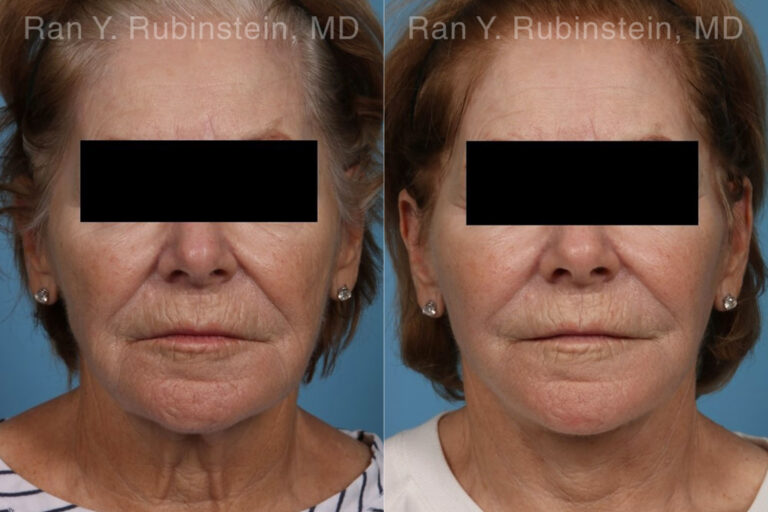 * All patients are unique and individual results may vary.
Extended Deep Plane Facelift Recovery
The surgeon applies a bandage to the area immediately after the surgery. Because the procedure does not involve separating connective tissue, swelling and bruising are minimal when compared to traditional facelift procedures.
Dr. Rubinstein will prescribe pain medication to reduce discomfort during recovery and provide detailed instructions for improved healing, such as keeping the head elevated and applying cold compresses to alleviate the swelling.
The patient returns to the surgeon's office the day after the surgery and several times during the first two weeks. Traveling patients must remain in the area for an additional seven days after the surgery or be within an easy driving distance for follow-up appointments before flying home.
Numbness, swelling, and moderate bruising can be expected during the initial recovery. Most patients can return to work and social activities within two to three weeks. The final deep plane facelift results will be evident in about six months. Check out these before and after facelift pictures.
Extended Deep Plane Facelift Questions
How long do extended deep plane facelift results last?
Extended deep plane facelift results last longer than traditional facelift results because they lift the underlying layers of the facial structure. Patients typically enjoy younger, firmer skin without follow-up treatment for 10 to 15 years. Nonsurgical rejuvenation procedures, a healthy lifestyle, and regular skincare help maximize facelift results.
What is the difference between an extended deep plane facelift and a traditional facelift?
A traditional facelift addresses the top layer of the skin by removing excess sagging skin and tightening the surface, which places tension on the facial muscles and skin, often causing a stretched appearance. The extended deep plane facelift restores the underlying facial tissue, accentuates the cheeks, restores midface volume, and lifts the muscles along the jawline for a rejuvenated, youthful appearance without looking stretched.
How do I prepare for an extended deep plane facelift?
Dr. Rubinstein will provide you with pre-surgery instructions during the consultation. It is necessary to stop medications and supplements that thin the blood two weeks before the surgery. 

If you smoke, stop smoking at least six weeks before the surgery. Ask a friend or family member to drive you to and from surgery, and prepare your home with food and necessities so that you can rest and recover after the procedure.
How long does it take to recover after an extended deep plane facelift?
Dr. Rubinstein will provide you with detailed recovery instructions. Although the extended deep plane facelift manipulates tissues that lie deep within the skin, it usually requires less downtime than a traditional facelift. Most patients return to work 14 days after their extended deep plane facelift. 

The deep plane technique involves less swelling, and the uncomplicated, small incisions heal speedily, allowing patients to resume their normal activities after a relatively short recovery. While bruising and swelling are expected after the procedure, bruising typically disappears within one to two weeks and swelling resolves gradually. 
What other procedures can be done alongside an extended deep plane facelift?
During a private consultation, Dr. Rubinstein will meet with you and discuss your goals. He may recommend an additional procedure based on your goals. He specializes in facial cosmetic surgery, such as eyebrow lifts, rhinoplasty, neck lifts, cheek augmentation, and scar revision.
What should I expect on the day of surgery?
Discuss taking medication on the day of surgery with Dr. Rubinstein during the consultation. Have a friend or family member drive you to and from surgery. 

The deep plane extended facelift typically takes five hours, and you will leave the procedure wearing a bandage. Dr. Rubinstein may prescribe medication to reduce your postoperative discomfort. The application of cold compresses will help alleviate the swelling. Ask an adult to stay with you for the first 24 hours after the surgery.  
Are there risks associated with an extended deep plane facelift?
According to studies, deep plane facelift complications are reduced to 1% when performed by an experienced facial plastic surgeon. Although rare, there is a risk of swelling, bruising, facial nerve damage, and asymmetry. Double board-certified facial plastic surgeon Dr. Rubinstein will discuss the benefits and risks during the consultation.