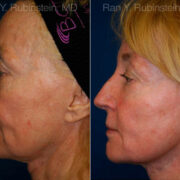 Patient Info
Gender: Female
Procedure Description:
Injectable Fillers (Sculptra)
Before: Patient with history of prior face lift performed elsewhere 10 years prior requesting a second surgical lift. On evaluation, patient has had significant loss of facial volume contributing to the skin sagging. Performing a second face lift without restoring lost facial volume would have created an unnatural pulled appearance.
After: 1 year after 3 two vial Sculptra injection treatments. Note how without any surgery, the sagging facial skin has been uplifted along the cheeks, jaw line and neck simply by restoring lost facial volume.
Surgeon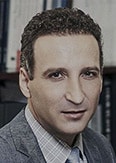 Ran Rubinstein, MD
Physician
Location
United States, NY, Newburgh, 200 Stony Brook Ct, 12550
845-863-1772