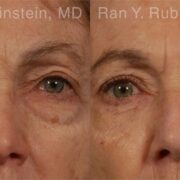 Patient Info
Age: 60 - 69 years old
Gender: Female
Procedure Description:
Before: 66 year old female would like to address heaviness of her upper eye lids affecting her vision and her lower lid puffiness. Note in photos from her late 20's that she always had a natural fullness of her upper eye lids which was preserved post operatively rather than over removing upper eye lid skin, muscle and fat which can create a hollow unnatural appearance.
After: 8 months after upper blepharoplasty, lower blepharoplasty via a trans conjunctival approach (stitch less) to remove excess eye lid fat and Fraxel Repair (CO2) resurfacing of her lower lid lids for skin tightening. A balanced approach was taken where conservative amounts of fat were removed and equal amount of volume restored in the under eye hollows with Restylane injections.
Surgeon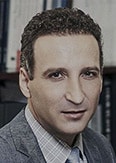 Ran Rubinstein, MD
Physician
Location
United States, NY, Newburgh, 200 Stony Brook Ct, 12550
845-863-1772