Microneedling is a cosmetic procedure that has been used by plastic surgeons since the early 1900s to treat wrinkles, scars and other signs of aging. In the past, microneedling devices used only small pins, needles, or tips on a device designed to roll over the skin, creating small puncture holes and initiating skin regeneration. Modern microneedling devices use radiofrequency technology for greater precision and enhanced results.
What is RF Microneedling?
RF microneedling, or radiofrequency microneedling, is an innovative skin rejuvenation procedure. RF microneedling is a type of collagen induction therapy used to treat skin laxity, fine lines and wrinkles, blemishes, acne scarring, enlarged pores, sun damage, rough skin, and stretch marks.
The device uses a combination of radiofrequency waves and needles to produce a series of tiny, controlled skin injuries. These injuries initiate new skin growth, which reduces the appearance of scars and wrinkles.
The Genius RF microneedling device is the gold standard of microneedling since it provides the plastic surgeon with feedback during treatment, improving comfort and accuracy. Proprietary technology shows the surgeon the exact delivery of radiofrequency energy in real-time, with presets and needle tips for all types of skin and areas of the body.
Compared with other skin rejuvenation treatments, RF microneedling is minimally invasive while offering noticeable results.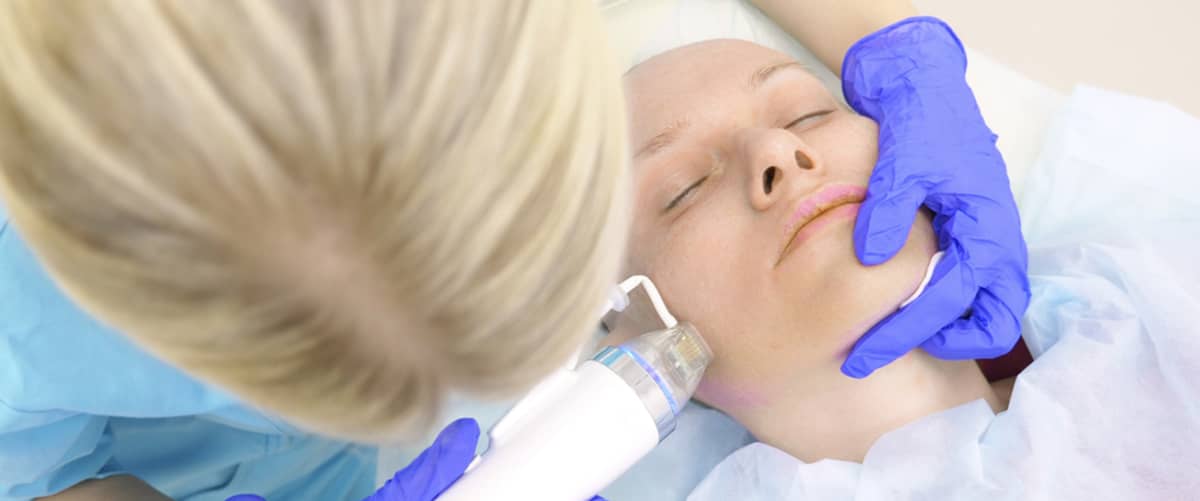 Patient Results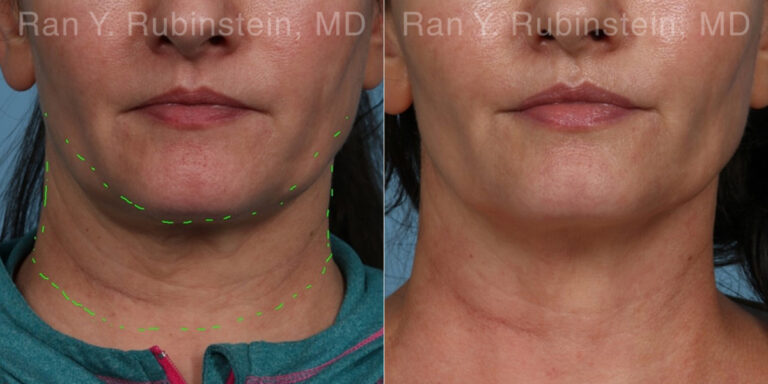 * All patients are unique and individual results may vary.
Benefits of Genius RF Microneedling
The Genius RF microneedling device offers many exciting benefits for patients. New technology allows the surgeon to control the level of coagulation change in the skin using precise energy delivery.
Coagulation results from the skin's regeneration of collagen and elastin. Collagen is one of the body's building blocks, a protein that keeps the skin firm. Meanwhile, elastin allows the skin to snap back and stretch as needed.
When scars form, both collagen and elastin rearrange themselves in an attempt to reconstruct the former appearance and position of the skin tissue. Microneedling devices cause controlled injuries to restart this process, with the goal of improving scars, skin texture, wrinkles, and laxity across the body.
The Genius RF microneedling device can be used on nearly any area, including the face, neck, abdomen, arms, knees, thighs, and armpits. The overall effect of microneedling is smoother, younger-looking skin.
Consultation
FOR GENIUS RF MICRONEEDLING
If you think you might be a candidate for RF microneedling, you will want to start by scheduling a consultation at our office in Newburgh, NY. Our staff will meet with you to evaluate your skin and see if you are a good candidate for the treatment.
Occasionally, another treatment will meet your skin rejuvenation goals better than microneedling. If this is the case, Dr. Rubinstein will give you his recommendation for which treatment will work best for you.
Consultations are necessary for all cosmetic procedures since they provide patients with the opportunity to ask questions and address any concerns. The more prepared you are, the more helpful your consultation will be. So write down your goals, questions, and concerns before you come in!
Preparation for RF Microneedling Treatments
Unlike most aesthetic treatments, preparation for microneedling is fairly simple. The most important aspect of the preparation process is to ensure that you do not have any skin infections or breakouts on the day of your appointment. This includes hives, allergic reactions, contact dermatitis, cold sores, psoriasis, eczema, and active acne.
If you are prone to active breakouts or a history of cold sores, your surgeon may prescribe an oral antibiotic or oral antiviral. Contact the office to reschedule if your skin is not clear on the day of your appointment.
It is also important to avoid medications, supplements, vitamins and some foods that make you more likely to bleed and/or bruise for 1 week prior to your treatment. This list will be reviewed at your consultation appointment.
RF Microneedling Procedure
RF microneedling is performed at Dr. Rubinstein's office using topical anesthesia. Because the procedure is minimally invasive, it does not require oral or intravenous medications. Instead, the surgeon will clean the skin and apply the topical anesthetic about an hour before the procedure. ProNox (laughing gas) and a cold air chiller are also available during the procedure for added comfort.
The provider will use the RF microneedling device to strategically wound the skin in the treatment area while the radiofrequency waves are released into the wounds. The procedure will typically last 30 to 60 minutes. The exact duration will depend on the area of the body being treated.
RF Microneedling Recovery
After the procedure, the surgeon will apply a soothing topical product as well as ice to reduce discomfort during recovery. Numbness from the anesthetic will fade an hour or so following the procedure, leaving the face red and slightly sensitive (similar to the feeling of mild sunburn).
Patients can return home directly after the treatment and return to their normal routines. They are not prohibited from driving or other normal activities. We do recommend refraining from physical exercise for 24 hours.
To aid your recovery, you can use ice to reduce any swelling or discomfort, use SPF when out in direct sunlight, and follow the post-procedure instructions supplied by our office. Cosmetics should be avoided for the first 24 hours following your treatment.
FAQs
Who is eligible for RF microneedling?
As long as you are generally in good health, you are probably eligible for RF microneedling. Both men and women can benefit from this minimally invasive scar resurfacing and anti-aging procedure.
Can microneedling be combined with other treatments?
Yes! For optimal results, microneedling can be combined with certain laser treatments such as laser facials.
Should I get RF microneedling if I have sensitive skin?
Microneedling can be compatible with sensitive skin. However, you may want to consult with your surgeon before your appointment as they may advise that you take Tylenol an hour before the treatment to prevent discomfort. Also, be sure to follow the post-procedure care instructions to prevent aggravating your skin.
Can you have microneedling without topical anesthetic?
While some of the older, at-home microneedling techniques did not require an anesthetic, the Genius RF microneedling goes deep into the subdermal layers of the skin and the procedure would be uncomfortable without a topical anesthetic. With the application of topical anesthetic, most patients are able to make it through the procedure with minimal discomfort.
How often can you repeat the microneedling process?
Since microneedling is minimally invasive and the recovery is fairly quick, you can repeat the process every four to eight weeks. The results from RF microneedling are not permanent. You will need to schedule regular maintenance appointments after your initial treatment is complete.
How soon will I see the results of RF microneedling?
The full results from RF microneedling are visible three to four months following your final treatment. However, many patients note a visible improvement in texture and the skin's appearance after doing as few as 1-2 sessions.
What RF Microneedling office is near me?
If you live in the state of New York, Laser & Cosmetic Surgery Specialists offers RF Microneedling among its services. For a full list of services, please visit our Locations page.
Contact Us Today
Dr. Ran Rubinstein, MD works hard to provide cutting-edge cosmetic surgery procedures to all of his clients in Newburgh, New York. The Lutronic Genius RF is the most intuitive and dependable RF microneedling device on the market, made to correct stubborn acne scars and lessen the signs of aging. Call 845-863-1772 to schedule your consultation.