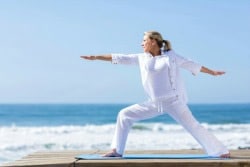 When it comes to body contouring procedures, careful design and skillful execution are the real keys to success. As you plan for your body or breast surgery, you'll work with your plastic surgeon to create the procedure that is best for you and helps you optimize the results you achieve. In many instances, the topic of liposuction techniques, like SmartLipo, might come up during your consultation. A procedure like this can refine your results, create the desired contour, and deliver just the look you're after. Would you consider adding SmartLipo to your body contouring procedure?
How Does SmartLipo Work?
SmartLipo Triplex is a technologically advanced take on the traditional liposuction techniques that have been around for decades. More specifically, it is a new technique that uses laser energy to melt away fat cells from unwanted places on the body. Like liposuction, it is best used for areas where fat has collected but cannot be budged, despite healthy habits like proper diet and regular exercise. It is not meant to be a weight loss solution, but rather, a way to improve body contour where needed. Patients seeking SmartLipo treatments should be within 30 percent of their ideal body weight, be in good overall health, not smoke, and have realistic expectations for their results.
The way SmartLipo works is fairly simple but also revolutionary. The SmartLipo procedure begins with small incisions at the treatment area, through which a small cannula fitted with laser fibers is inserted. When the laser fiber is activated, it emits laser energy to melt away the fat cells without harming the surrounding tissue. As it works, the laser also stimulates the production of collagen in nearby skin cells, which encourages healthy cell growth and a tightening of the skin itself. The melted fat is then suctioned away through a vacuum attachment before the incisions are closed. As the post-op swelling goes down, your trimmed results and tightened skin will gradually become visible.
What Makes It Different From Liposuction?
There are many features of the SmartLipo technique that make it very different from traditional liposuction. The end goal remains the same: permanent fat cell removal. That's about all that is the same, however. With traditional liposuction, a cannula is used to physically break apart the fat cells and suction them away. The amount of bruising, redness, and swelling tends to be greater following this technique. The refined techniques of SmartLipo allow for quick healing, fewer risks, and even improved results. Your plastic surgeon will have more control over which fat cells are removed when using the laser energy, so there are fewer chances for mishaps, misshapen body contour, and other problems. SmartLipo is also an ideal way to remove fat cells from delicate areas like the face and neck. Many facial plastic surgeons will incorporate it into their facial surgeries to improve patient results.
What Procedures Can Benefit From Adding SmartLipo?
Body contouring surgeries, or body sculpting, offer patients a second chance to have the bodies they've always wanted. Many patients seek body contouring procedures to help them tone muscle and trim excess fat away after a dramatic weight loss, pregnancy and childbirth, or just because of the process of aging. Just as there are many reasons to have body contouring done, there are many different types of surgeries offered. Patients can choose one or several procedures to create their ideal look. In many instances, the addition of SmartLipo Triplex can help to refine these results by eliminating stubborn fat pockets, including muffin top, love handles, saddle bags, bat wings, and more. While SmartLipo can always be performed as a stand-alone procedure, pairing it up with another body contouring surgery is the perfect way to achieve real results. By doing so, your plastic surgeon can manipulate the muscle, skin, and fat all at once in a concentrated area.
If you are planning for any of the following procedures, considering the benefits that SmartLipo could bring to your body with a combination surgery:
An abdominoplasty or tummy tuck, where fat removal can be helpful in refining the contour of the lower tummy, belly button, and pelvic area.
Arm lift surgery often requires SmartLipo to remove the excess fat before the skin can be trimmed and tightened.
A breast lift or breast reduction surgery, which may require SmartLipo to achieve the desired shape and/or size of the breasts.
A Cellulaze procedure, which uses the SmartLipo laser plus an extra attachment to repair cellulite damage. Combine a SmartLipo fat removal to smooth the area completely and effectively.
A thigh lift, especially since excess fat in the thighs often resists traditional weight loss methods.
Create the best procedure to meet all of your needs through a body contouring consultation with your plastic surgeon. Adding SmartLipo is an easy and effective way to boost your results by eliminating stubborn fat cells that keep getting in your way.
Get Information About SmartLipo Today
Learn more about how SmartLipo can help you to achieve the results you want.
Renowned facial plastic surgeon Dr. Ran Rubinstein at Laser & Cosmetic Surgery Specialists of Newburgh, New York. Laser & Cosmetic Surgery Specialists is the only specialty plastic surgery practice in the Hudson Valley area with an on-site joint commission certified surgical suite. To contact Dr. Rubinstein, please call 845-863-1772. Laser & Cosmetic Surgery Specialists is located at 200 Stony Brook Court #2 in Newburgh, New York.